Collections
Our Approach
Global Reach
Affiliations
Short-term study abroad programs with long-term impact
Our approach to faculty-led programs and short-term study abroad is in our name – Custom. Our built-from-scratch international experiences are fine-tuned to the learning outcomes and unique logistical needs of our partners at universities around the world. Like a fingerprint, each global program is different – and our capabilities across 110+ countries are unmatched.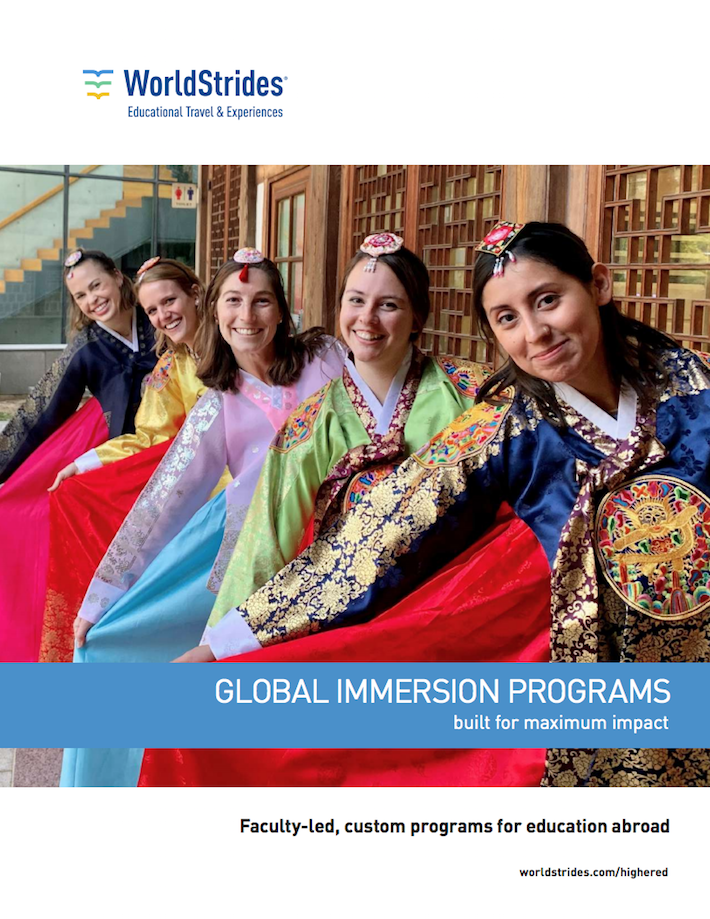 Download our Education Abroad Brochure
Meet the team, learn about our approach to program development, and read real case studies in our brochure.
Designing Your Custom Program
We believe this kind of learning experience demands a unique travel itinerary, and that's why we specialize in customized travel programs. Whether its J-term, spring break, May-mester, etc., our program development team, alongside our Global Academic Team, will consult with you to translate your curriculum into a one-of-a-kind learning experience that will deliver the educational outcome you're looking for. From selecting your destination to identifying interactive experiences that bring your classroom to life, our thematic approach ensures that your goals drive every decision we make together.
A Personal Partner
Once your program is developed, you'll work directly with an account manager who will be your champion, working directly with our large team of logistical experts, curriculum specialists, and on-the-ground partners. Our long-time university partners see their account managers as an integral part of their own university teams, ensuring that your program is uniquely yours each and every year.
Meet our VP of Program Development

Jennifer Fisher leads a team of WorldStrides' program development specialists, working directly with new university clients to globalize their curriculum with short-term faculty-led cultural immersion experiences. Jen brings a passion for customized curriculum solutions to this role after more than 20 years working with institutions of higher learning.
To begin customizing your program, give us a call at 1-800-422-2368.
Generation Study Abroad
WorldStrides and ISA have pledged to take a variety of steps as part of a worldwide effort to double the number of U.S. students studying abroad.
WorldAware
WorldStrides' partnership with this integrated risk management provider enhances our internal safety and security operations.
Executive MBA Council
WorldStrides is a founding corporate member of the organization to advance executive education worldwide.
MBA Roundtable
As a founding corporate member and affiliate sponsor of the MBA Roundtable, we are part of the community of business education.