Overview
Destinations
Global Academic Team
A micro and macro understanding of the global economy is a well-established tenet of business education. As such, business schools have blazed a trail in developing faculty-led programs in emerging and established destinations…and we've been there every step of the way! Read about just a few of the 100+ countries where we can develop a customized program for your career-focused learners.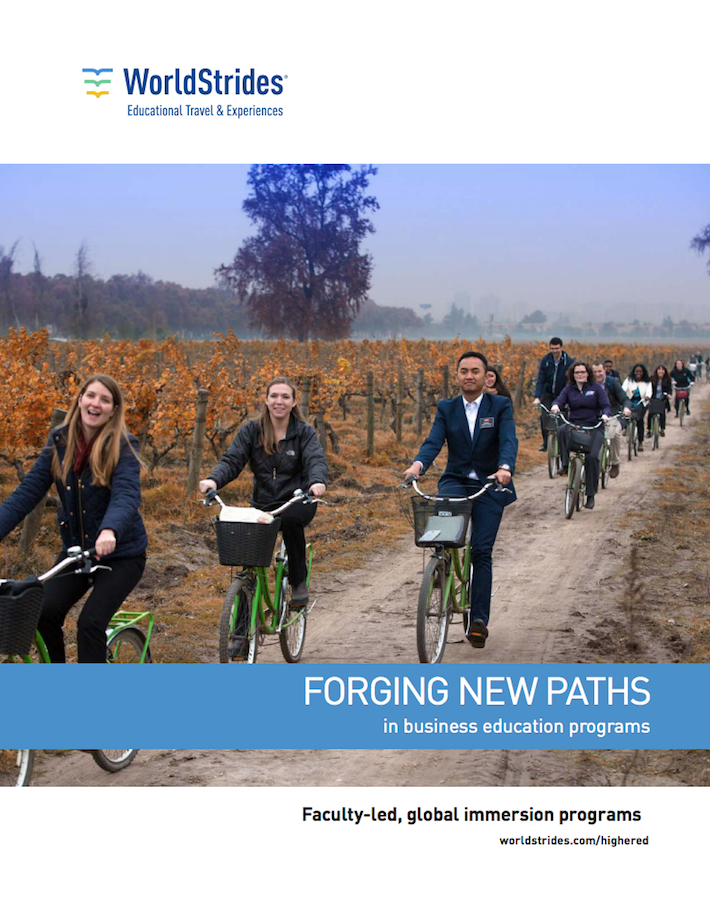 Download our Business Education Brochure
Learn how we integrate action-based learning into our custom, faculty-led programs for business.
Global Business Education
Strength in numbers
With 50 years of experience, we've taken over 9 million students on educational programs - over 530,000 students traveled with us last year alone! We partner with more than 50,000 educators and 500 colleges and universities.
We've got connections
We have long-standing relationships with the best vendors, venues, and transportation providers, as well as access to global leaders and innovators in 100+ countries around the world.
A well-oiled machine
Our customers give us rave reviews for our top-notch trip planning. We handle every detail for you, with particular focus on safety and security.
Tailormade travels
From J-term to summer break, four days to four weeks - we're accustomed to custom! We fit every aspect of your travel itinerary to your specific curriculum, your school's regulations, and your budget. And of course, we design every program to complement the sensibilities of your travelers—from 8th grade to undergraduate and up to executive education.
Company Visits and Interactive Experiences
Interactive visits to global organizations and hands-on field study experiences are the core of an educational travel program with WorldStrides. Executive speakers, factory tours, service learning opportunities and more—we've planned more than 5,500 academic engagements in the past 5 years!
This effort is led by our Global Academic Team, an international group with members based in the United States, China, and South America. These planning professionals engage with your program planners to develop an itinerary that illuminates the academic theme you've chosen and then taps into a global network of companies, NGOs, and government agencies to source engaging visits for students that bring this theme to life. Our thematic approach to planning these experiences helps to ensure that the purpose of your travel is always at the forefront of our process.
The Global Academic Team can also work with you to arrange applied learning exercises such as Local Market Immersions, designed to get students off the bus to experience the microeconomics of the city and interact with people and places.
Have questions? We have answers.
Our school would like to arrange our own meetings and daily course content. Can you still work with us?

Yes, we are flexible in arranging course content for your program. We can arrange all of the content, none of the content, or just some of the content at your request. We like to set clear expectations and define our role at the beginning of the program to avoid duplicating efforts.

How far in advance do I need to contact you to plan my international program?

Typically, our clients will begin planning their international trips between 9 and 11 months in advance of travel. However, this all depends on your travel needs! If your travel program is optional, a longer planning timeline helps give students time to decide if they'd like to participate and time to raise money to go. International air inventory opens approximately 11 months prior to travel; however, we can generally provide other cost components as early as 15 months prior to travel. We also receive last-minute program requests (groups traveling in fewer than 4 months) and do our best to accommodate those requests.